The latest and greatest
time-saving kitchen robot.
Scheduled

Cool-to-Cook

™
Load & Cool
Precision Cooking
Unload & Enjoy
Just load your meal and tell Suvie when you want dinner ready. Suvie automatically refrigerates your food and starts cooking when you tell it. Schedule ahead cool-to-cook works with all cook modes.
25 Minute

Rapid Cook

®
Load & Defrost
Roast & Steam
Broil & Serve
When you load your frozen meal, Suvie will use heated water circulation to quickly thaw your ingredients for cooking.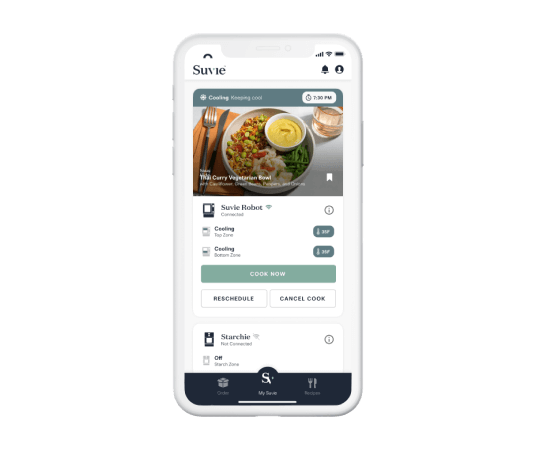 Get More Control With The App
Manage your Suvie Kitchen Robot by scheduling and monitoring cooks anywhere you go and order chef-designed Suvie Meals right to your door. Plus, get access to hundreds of delicious Suvie recipes from the Recette Blog.
Try Suvie risk free with a 100-day home trial.
Buy Now
Suvie 3.0 is smaller, cooks for more people, and is more connected than ever.
Made possible with deeper pans, a redesigned drain tray and all new mobile app experience.
Suvie 3.0 packs 36% more cooking capacity into a smaller package. But that's not all.
Cook for more people, and keep your countertop space. Plus, Suvie 3.0 comes with an all-new premium design & materials, unattended bake & roast, quieter cooling, and increased roast max temperature to 450F.
Everything ready at the same time.
All you need to do is tell Suvie what time you want dinner - and Suvie's Intelligent Auto Cook Timing will make sure all the parts of your meal are ready at the same time.
Suvie is the only counter-top appliance that both refrigerates and switches to cooking so you can schedule your meal when you want it. With Suvie 3.0, automatic cool-to-cook works with all cooking modes.
Rapid Defrost to Cook
Using the same patented water-jacketed technology to cool your food, Suvie can gently thaw and then cook your food from frozen in as little as 25 minutes. You can always load frozen food into Suvie and schedule it to finish cooking later in the day, Suvie will automatically defrost any frozen food you add.
No preheat needed.
Bake
Bake mode uses our exceptionally fast quartz elements to quickly heat the oven, meaning almost no time waiting to preheat. Our unique dual-heating elements produce delicate cakes, crunchy breads, and delicious dinners.
Roast to Perfection
High temperature roasting is ideal for quickly cooking crispy, roasted vegetables or beautifully browned chicken, fish, or pork tenderloin. The powerful quartz heating elements quickly cook your food so it begins to caramelize and produce the Maillard reaction, while still staying tender and moist on the inside.
Broiler Finish
Two State-of-the-Art Quartz Broilers heat up in seconds to crisp and brown your proteins and vegetables to get mouth watering caramelization. Quartz broilers are powerful heating elements prized for their ability to rapidly heat up and cool down, giving you precise control over your food. Caramelize sweet glazes on fish or pork, brown the crust on a pan of mac and cheese, or add an extra crisp to brussels sprouts.
Precision cooking. Water Powered.
All you need to do is tell Suvie what time you want dinner - and Suvie's Intelligent Auto Cook Timing will make sure all the parts of your meal are ready at the same time. Suvie's intelligent cook algorithms can even rapidly defrost your food and seamlessly transition to cooking so you have a perfectly cooked meal in as little as 25 minutes.
Sous-Vide
Circulate precision temperature-controlled water. Ensures perfectly cooked proteins without any risk of overcooking. Proteins are vacuum sealed and placed in a gentle water bath to lock in juices during cooking. Enjoy tender steaks, delicate salmon, and juicy chicken with this culinary technique.
Slow Cook
Create perfect braises with this low and slow cooking method without spending hours standing over a stove. Gently heat tough cuts of meat for hours melt in your mouth delicious. This method is also great for making soups, stews, or even dried beans. (You can even make cheesecakes with the precision temperature control)
And do more.
Breakfast & Eggs
With the optional silicone egg tray, make Sous Vide egg bites ready to eat for breakfast. Choose the fillings for your own sous vide egg bites with our egg pan accessory. This weighted, food-grade silicone pan can cook 4 sous vide egg bites with as many fillings as you can think of. From bacon and gruyere to spinach and feta the choice is yours. You can also use the egg pan to soft-boil, hard-boil, or poach eggs.
Warm and Reheat
Gently reheat food without drying it out and turning it into mush. Use the scheduling feature to keep food cold throughout the day, and then heat your food when you come home for dinner. Add a broil or bake at the end to crisp up any toppings.

Cook pasta, rice, and more. Automated and hands free.
The Suvie Starch Cooker talks to your Suvie 3.0 and schedules your Pasta, or Rice, to be ready at the same time as your meal so everything can be served at the same time.
Pasta Perfection
Want perfect al dente pasta with your meal? Using Suvie's patent technology, the Starch Cooker will automatically pre-heat, fill, cook and drain your pasta to al dente perfection. If you're scheduling a meal in advance the Starch Cooker keeps your pasta dry until it's time to start cooking and automatically adds the correct amount of water to cook.
Perfect Rice
Want perfect rice with your dinner? Just pour white rice, brown rice, short or long grain into the included Rice Pot. No more pans of impossible to clean burnt on rice. Suvie Starch Cooker automatically adds water to your rice and gently cooks it to perfection. Whether you're using brown, wild, jasmine, or sushi rice Suvie can cook them all. The Starch Cooker can coordinate with your Suvie 2.0 to make sure your rice is cooked right on time for your meal.
Healthy Grains
Want to add a healthy grain to complement your Suvie Meal? The Suvie Starch Cooker cooks grains like quinoa, barley, farro, and more to perfection. Just add grains into the pot, schedule the time you want your meal, and the Suvie Starch Cooker will do the rest.
Oatmeal
Want to automate breakfast? Suvie makes it easy to wake up to delicious, healthy oatmeal to start your day off right.
Technical Specs
The Suvie System takes up less space than a typical microwave and most smart ovens.
Dimensions
Full Suvie System: 25" W x 20"D x 16"H
Suvie Kitchen Robot: 14" W x 20"D x 13"H
Suvie Starch Cooker: 11" W x 16.5"D x 16"H
Weight
Suvie Kitchen Robot: 56lbs
Suvie Starch Cooker: 25lbs
Electricity
Suvie Kitchen Robot: 1400W (110V / 15A)
Suvie Starch Cooker: 700W (110V / 15A)
Materials
FDA Approved Food Contact Materials
Quartz Heating Elements
Stainless Steel Pans
Premium Stainless Steel Housing
Capacity
Suvie Oven Pans: 2.3L per Zone (2x Zones)
Starch Pot: 3L
Display
Suvie Kitchen Robot: 3.5" Color LCD Screen, Resolution 480 x 320
Suvie Starch Cooker: 2.4" Color LCD Screen, Resolution 320 x 240
Mobile App
Works with iOS devices running version 10.0 and later, and Android devices running version 5.0 and later.
Try Suvie in your home
for 100 days, no-risk.
Start saving time and eating better today.
Buy Now